About Ben Knapinski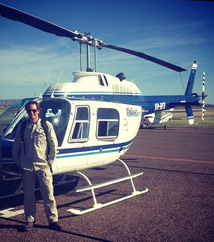 BJK... Benjamin James Knapinski is Western Australia born and raised. Ben has been photographing his home state for over 20 years and in particular the rugged North West. His dedication and love of WA is revealed in his innovative range of pictorial books, souvenirs & photographs.
Until recent years, this vast outback was largely overlooked by all but a few photographers. Contributing to this void would take Ben many years of sacrifice with the expenses involved in his career particularly with publishing.
Ben's images are uninfluenced and he is passionate about the natural beauty of the landscapes, endevouring to keep colours as real as possible.
With the discipline of a traditional film background, he uses a number of specialised cameras & self taught techniques. Ben's talent extends further than panoramic landscape photography and he now practices almost every field of his profession including underwater photography.
Today, Ben continues to refine his craft and fulfill his life long dream of producing pictorial books and photos on unique areas throughout Western Australia but with great care not to expose or name areas that are sacred or fragile.
"I feel so privileged to have been born and raised in this great land and to be living my dream... The natural beauty of Western Australia inspired me to learn photography and not for a second will I ever take this land or what I do for granted..... Ultimately I just love being out there like anyone else."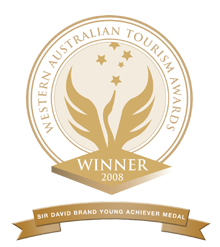 The Sir David Brand Young Achiever Medal is a major award that recognizes the extraordinary achievements by an individual under the age of 35 who has consistently contributed to the positive image of tourism in Western Australia. Awarded to Benjamin James Knapinski in 2008 at the WA Tourism Awards, presented by Ernie Dingo, Monika Kos and Dr Jennie Bickmore-Brand.